Pensacola Bankruptcy Lawyers Celebrate 20 Year Anniversary
06/31/2018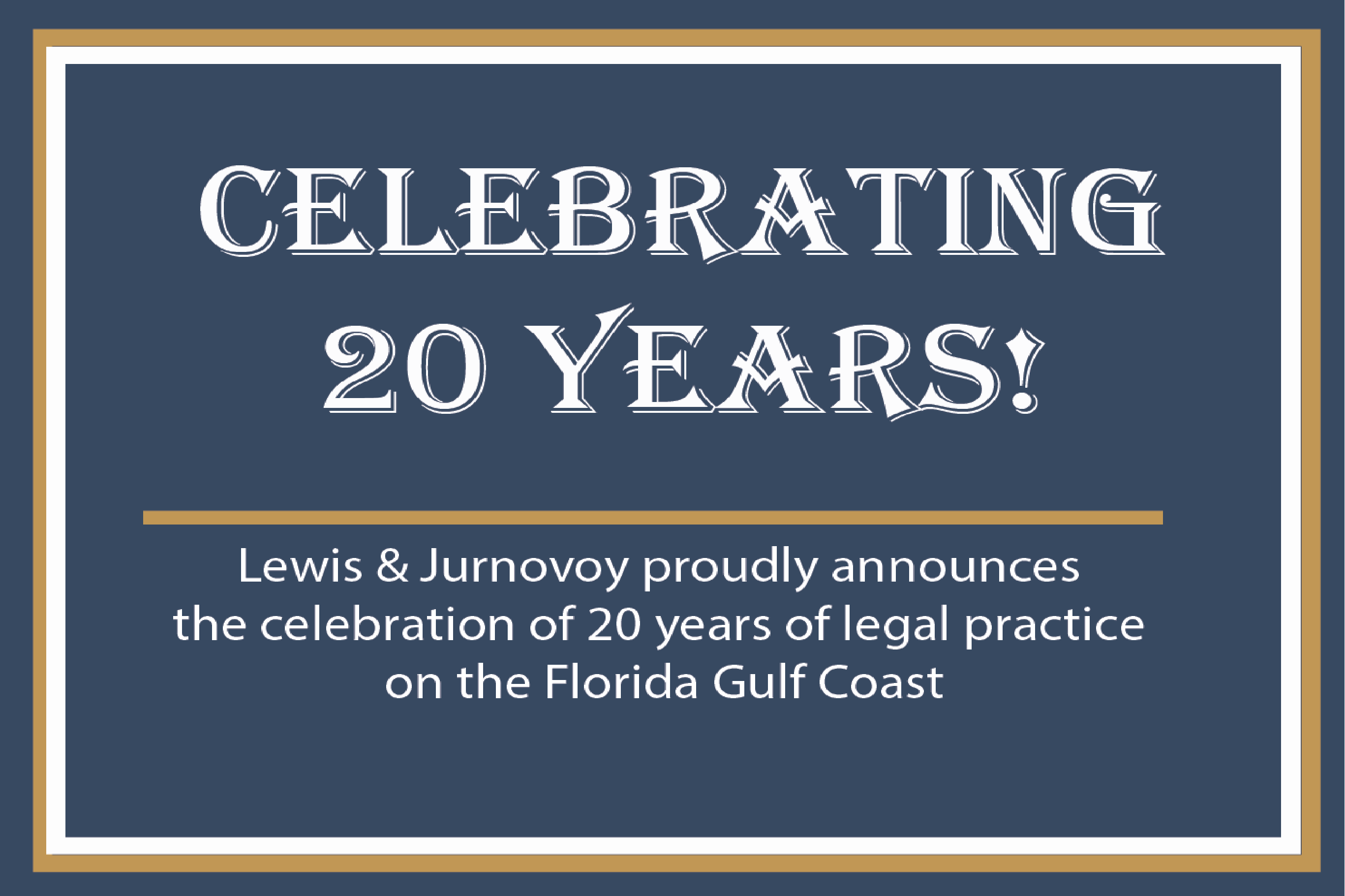 Pensacola, Fla. – The Bankruptcy law firm of Lewis & Jurnovoy proudly announces the celebration of 20 years of legal practice on the Florida Gulf Coast. Initially opening one office in Pensacola, Florida on April 1, 1998, the Bankruptcy lawyers in Pensacola rapidly expanded their offices opening more in Fort Walton Beach, Panama City, and Crestview.
Martin Lewis and Steven Jurnovoy created the partnership to help individuals on the Gulf Coast having financial problems. The law firm specializes in both Chapter 7 Bankruptcy and Chapter 13 Bankruptcy cases.
"We love representing people and small businesses in Bankruptcy cases as these are the people and businesses that we all see in our everyday life," says partner Martin Lewis. "Our clients have similar problems in trying to manage and juggle their daily lives and finances while making sure that they have adequate funds to pay basic living expenses."
"No one really wants to file Bankruptcy," says partner Steven Jurnovoy, "but people are forced into Bankruptcy due to their circumstances like job loss, divorce, health problems, raising grandchildren, supporting other family members, and loss of overtime, to name a few." Jurnovoy goes on to say that "Martin and I personally meet with all of our clients in all of our offices and we go to court also, as we are the only attorneys in our law firm."
Martin Lewis, a native of Mobile, graduated from the University of South Alabama with a B.S. in Economics, and then entered a dual degree program at Samford University obtaining both a MBA and also a Juris Doctris (law degree). Steven Jurnovoy, a native of Philadelphia, graduated from Emory University with a B.B.A. in Accounting, and then also completed dual degree programs receiving a Juris Doctris from Villanova and a Master in Taxation from Temple University. Both Martin and Steven have served on many committees through the Bankruptcy court to assist the Bankruptcy court in procedure and practice.
Jurnovoy states that "it has been an honor to serve and represent so many clients along the Gulf Coast bringing relief to individuals, families, and small businesses. So many people are just unaware that the Bankruptcy laws are actually designed to help people, including saving homes and cars, and just to get out of debt."
Congratulations Lewis & Jurnovoy, Pensacola bankruptcy attorneys, on a job well done. They offer a free appointment and also produce a TV Show entitled "The Bankruptcy Hour" airing in 10 different counties throughout Florida and also streaming live on their website.
For more information regarding Lewis & Jurnovoy, P.A., please call (850) 432-9110.